Illusion aligners (Modern aligners)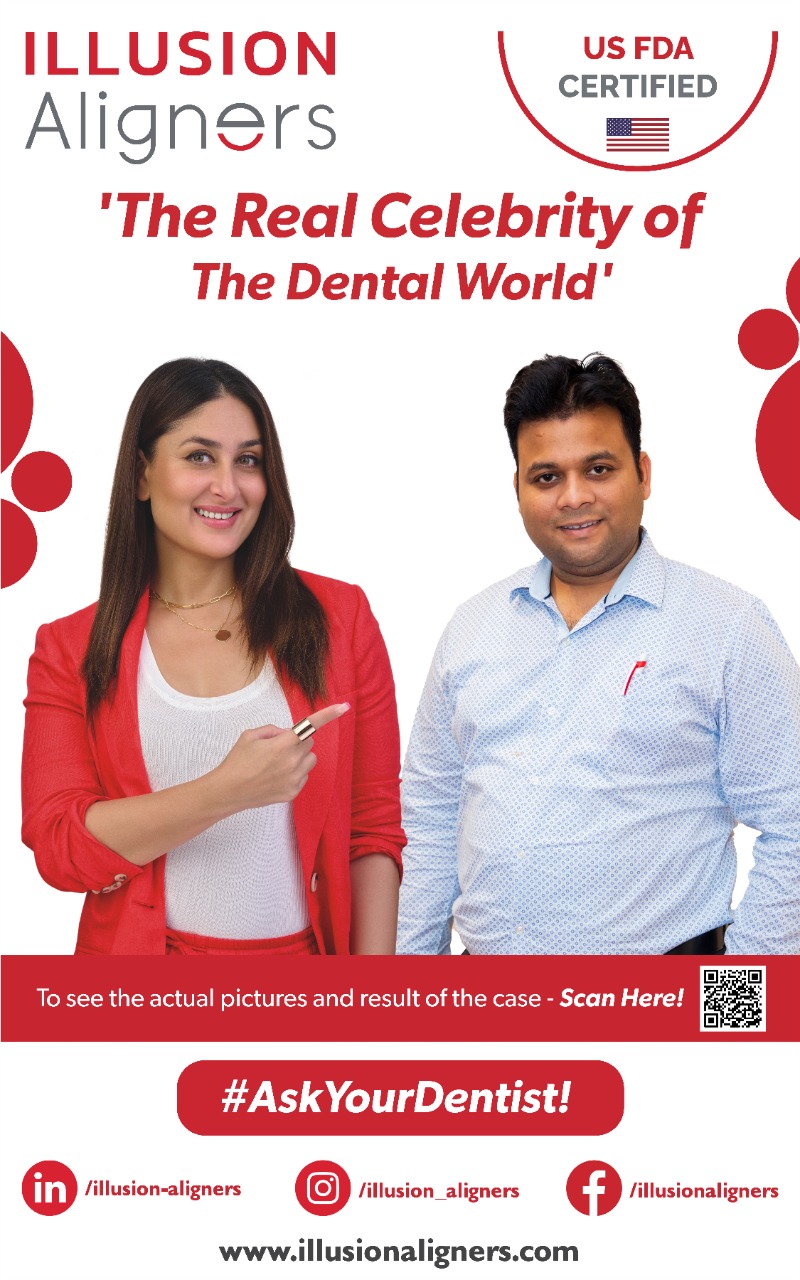 When it comes to clear aligner treatment, Trust Illusion Aligners to deliver the best results. Illusion aligners make use of the most advanced material and orthodontic technology to precisely and efficiently treat alignment issues.
Illusion aligners are comfortable, unnoticeable and invisible alternative to metal braces. It is the only brand of Indian origin that has received approval from US FDA. The company is known for its stringent quality checks. It treats the teeth alignment problems in the most efficient manner by utilising the advanced material and the latest orthodontic technology.
The brand uses a 3D setup to virtually visualise the final outcome of the treatment even before the treatment starts. Patients are provided with Zero Aligners so that they can evaluate the fit and comfort level of the aligners and then go for the treatment. These aligners have a thickness of 0.8 mm and can easily adjust without resulting in gum or teeth discomfort.
These aligners are made to last the wear and tear of the oral environment and are crack resistant. These are also stain-resistant and highly long-lasting. The patient can enjoy his diet without worrying about the durability of the product. The company offers pocket-friendly tools for tooth straightening and flexible payment options.
Benefits of Clear Aligners
Ultra Clear
Gives better aesthetics
Illusion aligners have high optical clarity that makes them unnoticeable and allows you to undergo discrete orthodontic treatment
SUPER THIN
Conveniently fits in your routine
Fabricated with a thickness of just 0.8mm, our aligners are easy to adjust to and do not cause any discomfort to your teeth,tongue or gums.
US FDA APPROVED
Safe and Effective
Illusion Aligners is the ONLY Indian brand to receive the US FDA (United States Food and Drug Administration) approval. Each aligner is made from our premium aligner material and subjected to stringent quality checks.
PREDICTABLE
Facilitates your treatment
Illusion aligners bring about consistent and accurate tooth movement throughout the treatment giving you end results as planned.
CRACK RESISTANT
Minimises incidence of breakages
Superior mechanical properties that are a perfect balance of strength and flexibility allow our aligners to withstand the wear and tear in the oral environment.
STAIN RESISTANT
Let's you eat your favourite food
Our aligners have been tested to show minimal discoloration even after prolonged wear.They promote hygiene and do not require you to compromise on your dietary habits.
CUSTOM MARKED
Enables easy tracking
Each aligner can be laser marked to indicate the unique case number, upper or lower arch and serial number at which it should be worn.